Mourinho: Officials punished Chelsea in Premier League opener
August 13, 2015
Asked whether that would be a policy this season, Mourinho retorted to laughter in the press room: "No, it is just because the first time I can control myself. "I repeat this for a long, long, long time, even in my first period here, because my record at Stamford Bridge is something incredible. "Bafe would have had a goalscoring opportunity when the keeper took him down and he took him down inside the area, so it's definitely a penalty and obviously a red card."
. The players know that. We always looked dangerous and got the result we deserved."
In truth, Swansea were unlucky to return to south Wales with just a point to their name, having continued where they left off last term.
Jose Mourinho attempted to keep his counsel after Chelsea's stuttering start to their Premier League title defense, yet could not help let slip that he felt officials had "punished" his side against Swansea.
Mourinho may feel hard done by, but Swansea counterpart Garry Monk believes the officials' decision was correct.
"From where I was sat and the replay I saw, the referee got it right," the Swans boss said. Never. Bafetimbi Gomis slotted home the resulting penalty and Chelsea just about held on after the goalkeeper's red card, launching a desperate late bid to turn the draw into a win.
"I do not want to speak about red cards," he said towards the end of the press conference. But at home a draw is only good in special circumstances, like last year, for example, when we were almost champions so a draw against Manchester United was a good result."
There was a feel-good factor around Stamford Bridge heading into the game, with the club basking the afterglow of last season's success and the self-proclaimed "Special One" penning a new long-term deal. (Photo by Julian Finney/Getty Images)
Oscar's free-kick and a Federico Fernandez own-goal either side of debutant Andre Ayew's classy effort gave the hosts a comfortable halftime lead, only for Thibaut Courtois' sending-off shortly after the restart to change the dynamics. Playing with 10 men for such a long time is much more difficult and fundamentally I am happy with the quality they had in the first half and I am happy with their spirit in the second half, so we are in peace. I want to react this way so you don't say he was (complaining) from day one. The Portuguese was short when asked about a Diego Costa's first-half penalty appeal and curt when answering questions about Courtois' dismissal for bringing down Gomis.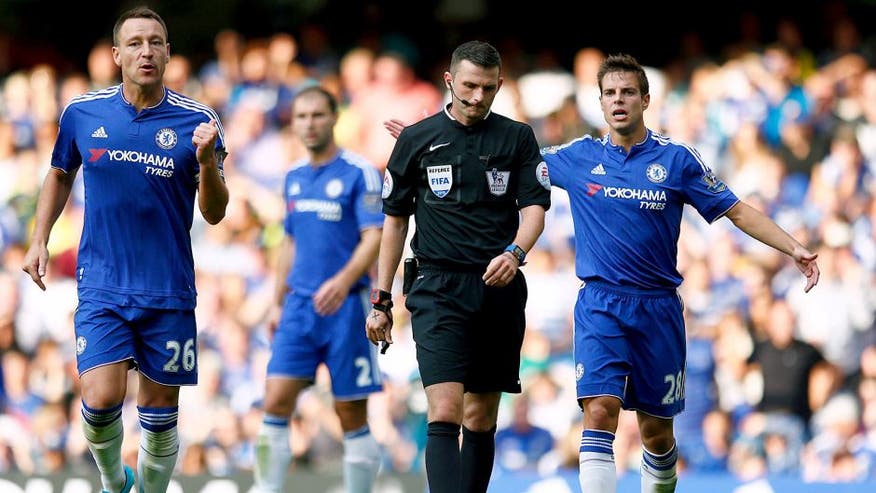 LONDON, ENGLAND – AUGUST 08: Referee Michael Oliver awards a penalty to Swansea after Thibaut Courtois of Chelsea bringing down Bafetimbi Gomis of Swansea City while Chelsea player appeal during the Barclays Premier League match between Chelsea and Swansea City at Stamford Bridge on August 8, 2015 in London, England. We were excellent. In day one we were punished, but it was not on day one that I opened my mouth."
He added: "Apart from that, we play at home to win and we tried that, so it is normal. We are not happy with the result."
"I thought for 90 minutes we were excellent," Monk said. We had some very good chances. The best chances fell to us. However, things went awry on the field as the Blues drew 2-2 – and were fortunate to avoid becoming the first Premier League champions to start their defense with defeat.
Mourinho also did not appear to be particularly happy with referee Michael Oliver and his assistants. I set the team up to be offensive and showcase the talent we have in the squad, and I thought we did that for 90 minutes."
Monk added: "Of course there were periods when we had to defend well, but you'd expect that at a place like this against a really good team. "We tried," Mourinho said. "We really competed. They know one point is one point. I never played for a draw. So if today we lose, we lose
Hopefully you will now be less likely to fall for a system that doesn't work. There are systems that can and will bring you rewards but it is imperative that you know what you are buying first.
Latest posts by Amelia Woodward (see all)